event
Gender-responsive...
Gender-responsive employment policies for a job-rich and fair recovery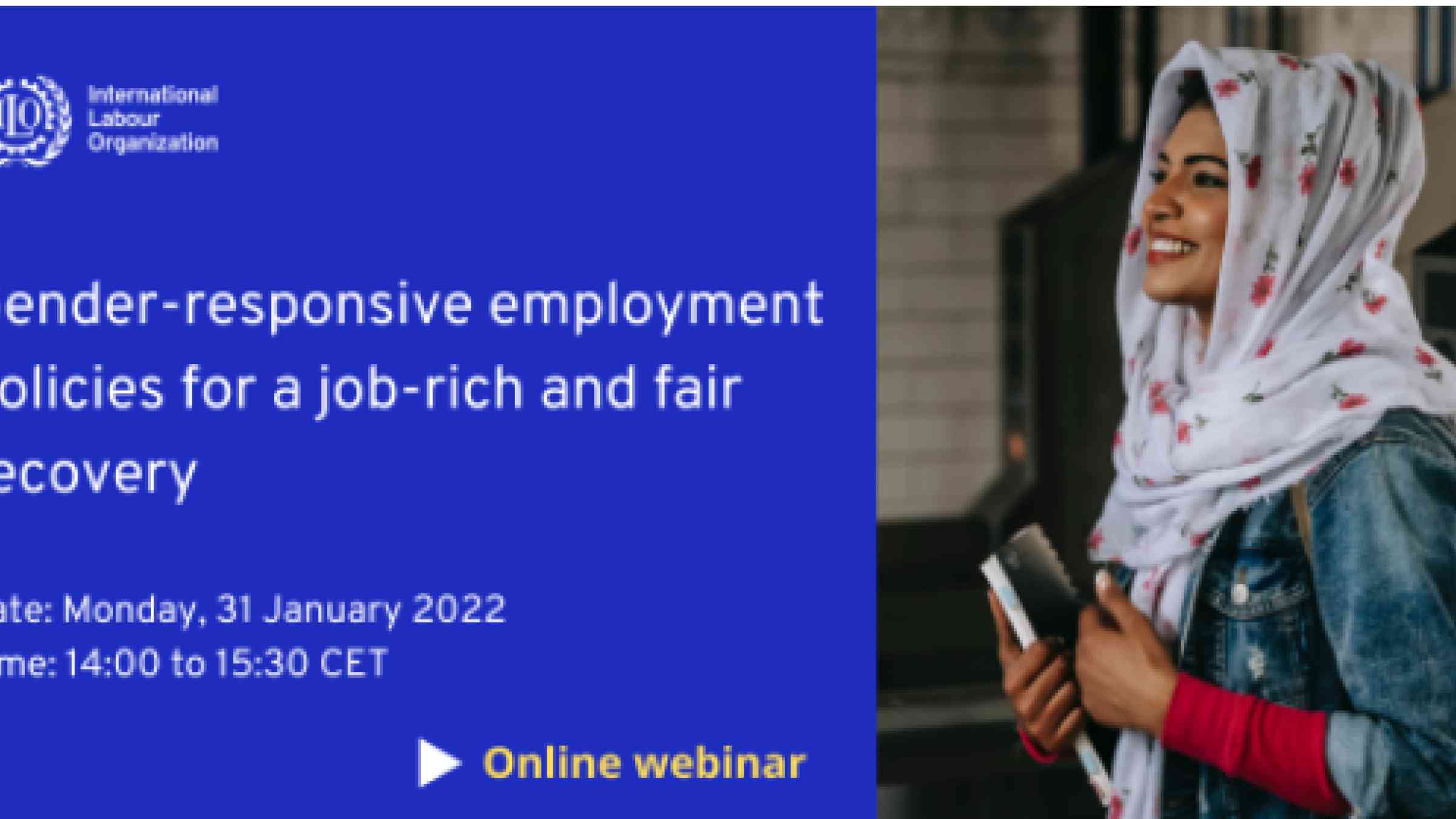 Organizer(s)
International Labour Organization
The COVID-19 pandemic has had devastating impacts on the work of work, especially for women. Women, and particularly young women, continue to be disproportionally affected by employment losses. The closure of schools and other care services and, in many cases, the caring for those infected by the virus but suffering only mild symptoms, created an unprecedented demand for care within the home, the majority of which has fallen on women. Women who have left the labour market are not returning to it, and employment creation seems to be leaving them behind.

These gendered impacts of the crisis have been recognized in the Global call to action for a human-centred recovery from the COVID-19 crisis that is inclusive, sustainable and resilient  which calls for gender-responsive employment policies, particularly macroeconomic, sectoral and active labour market policies that address effectively the gender-specific effects of the COVID-19 crisis and support the creation of full and productive employment for women and men, including in the care sectors.

This webinar will bring policymakers, academic experts and ILO employment specialists from different regions to share knowledge on how they have produced specific diagnostics on how women and men have been impacted by the crisis, and the ways in which they have progressed in implementing gender-responsive employment policies.

Moderator: Sukti Dasgupta, Branch Chief, Employment, Labour Markets and Youth Branch, ILO.


Opening remarks: Sangheon Lee, Director, Employment Policy Department, ILO.

Session 1 – Gendered impacts of the COVID-19 crisis and response

      Employment impacts of COVID-19, Valeria Esquivel, Employment Policies and Gender Specialist, GENDER/EMPLAB, ILO (10 min)

      Gender-responsive fiscal stimulus packages, Professor Lekha Chakraborty, National Institute of Public Finance and Policy, India (10 min)

      Gender-responsive sectoral policies, Marzia Fontana, Research Associate at IDS, University of Sussex (10 min)

      Gender-responsive National Employment Policies, Eléonore D'Achon, Employment Specialist, EMPLAB, ILO (10 min)

      Q&A (10 min).

Session 2 – Engaging policy makers in gender-responsive employment policies

      Presentation: The experience of Argentina, Dr. Sol Prieto, Coordinator, National Direction of Economics, Gender and Equality, Ministry of Economics, Argentina (10 min)

      Presentation: The experience of Morocco, Saâd Belghazi, Economist and Consultant for the ILO (10 min)
 
Conclusion: Sukti Dasgupta, ILO (5 min).