publication
Documents and publications
The Education Sector in Puerto Rico After Hurricane Maria: Predisaster Conditions, Hurricane Damage, and Themes for Recovery
Author(s)
CHRISTOPHER NELSON, ANDREA PRADO TUMA, TERRY MARSH, MEGAN ANDREW, DREW M. ANDERSON, ANAMARIE A. WHITAKER, LYNN A. KAROLY, M. REBECCA KILBURN, ROBERT F. MURPHY, NUPUR NANDA, JAMIE RYAN, TROY D. SMITH, ANITA CHANDRA
Source
Homeland Security Operational Analysis Center
RAND Corporation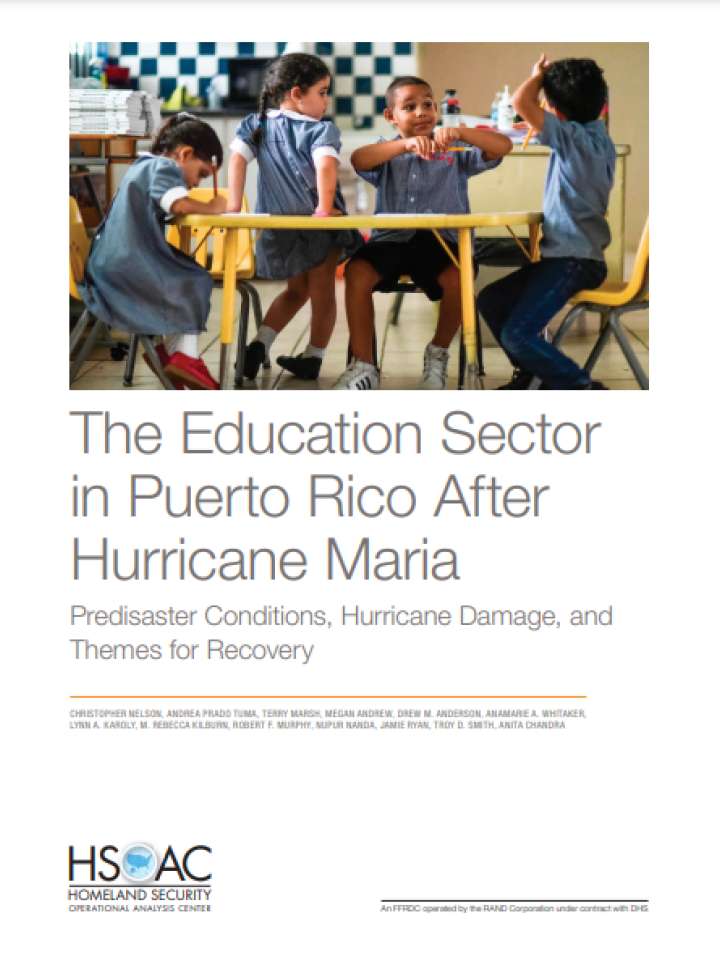 The government of Puerto Rico developed a plan to recover from the destruction caused by Hurricanes Irma and Maria, build resilience to withstand future disasters, and restore the struggling economy. The Homeland Security Operational Analysis Center (HSOAC), operated by RAND Corporation under contract with the U.S. Department of Homeland Security, worked with the Federal Emergency Management Agency (FEMA) to assist with the development of the plan.
Acting in support of FEMA's Education sector, HSOAC analyzed data sources to conduct an assessment of the damage and recovery needs, and engaged with stakeholders to identify recovery courses of action, costs, and possible funding mechanisms. Education system reforms initiated prior to the hurricanes and poststorm legislation set the strategy for the recovery actions.
This report details prestorm conditions, assesses the damage and recovery needs, and describes the courses of action represented in the recovery plan for the Education sector. The analyses, coupled with discussions with local education stakeholders and subject-matter experts, informed the development of 13 courses of action to support Puerto Rico's recovery plan and efforts to transform the education system. The courses of action cover four major themes related to Education sector recovery: rebuilding, repairing, and upgrading infrastructure; strengthening and supporting the government's K–12 system reform; expanding and improving out-of-school and preschool learning opportunities; and increasing access to vocational, technical, and career education and strengthening school-to-work transitions.