IRP Herald Vol 4: IRP at the 6th Asian Ministerial Conference on Disaster Risk Reduction ~Collaborating with IRP Partners~
28 January 2022
Source
International Recovery Platform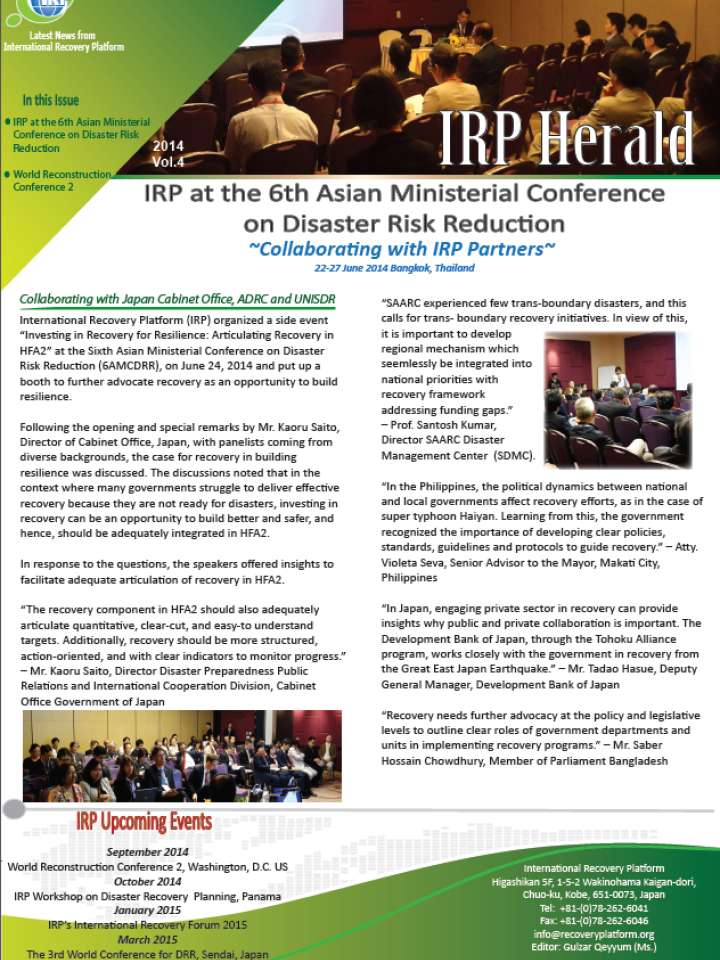 The International Recovery Platform Herald (IRP Herald) is the periodic newsletter of the International Recovery Platform. The IRP Herald reports on IRP activities and serves as the knowledge report for the annual International Recovery Forum, as well as recovery-related content from other major conferences.
IRP Herald Volume 4 is the knowledge report for the Sixth Asian Ministerial Conference on Disaster Risk Reduction (6AMCDRR). IRP organized a side event "Investing in Recovery for Resilience: Articulating Recovery in HFA2" at the 6AMCDRR. This edition of the IRP Herald highlights key lessons and experiences from the speakers at the side event, including institutionalizing recovery functions in national and local governance systems and ensuring ­financial predictability for recovery programs and activities.
IRP Herald Volume 4 is available in both English and in Japanese.