Documents and publications
IRP Herald Vol 5: IRP at the World Reconstruction Conference 2
Source
International Recovery Platform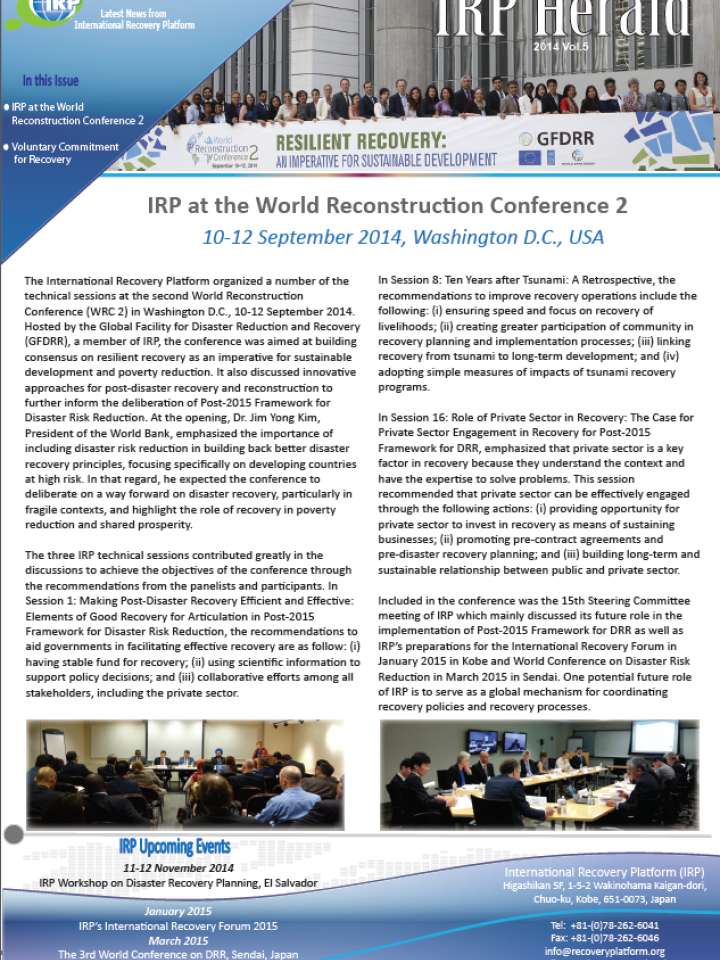 The International Recovery Platform Herald (IRP Herald) is the periodic newsletter of the International Recovery Platform. The IRP Herald reports on IRP activities and serves as the knowledge report for the annual International Recovery Forum, as well as recovery-related content from other major conferences.
IRP Herald Volume 5 is the knowledge report for the Second World Reconstruction Conference (WRC 2). The three IRP technical sessions contributed greatly in the discussions to achieve the objectives of the conference through the recommendations from the panelists and participants. This edition also covers IRP's attendance at the ASEAN High-Level Conference on Assistance for the Recovery of Yolanda-Affected Areas (ARYA). This edition of the IRP Herald highlights recommendations identified by panelist sand participants at the three technical sessions organized by the IRP, Session 1: Making Post-Disaster Recovery Efficient and Effective: Elements of Good Recovery for Articulation in Post-2015 Framework for Disaster Risk Reduction, Session 8: Ten Years after Tsunami: A Retrospective, and Session 16: Role of Private Sector in Recovery: The Case for Private Sector Engagement in Recovery for Post-2015 Framework for DRR.
IRP Herald Volume 5 is available in both English and in Japanese.