Documents and publications
Lebanon Reform Recovery and Reconstruction Framework (3RF)
Source
World Bank, the
United Nations Development Programme
Global Facility for Disaster Reduction and Recovery, the
European Union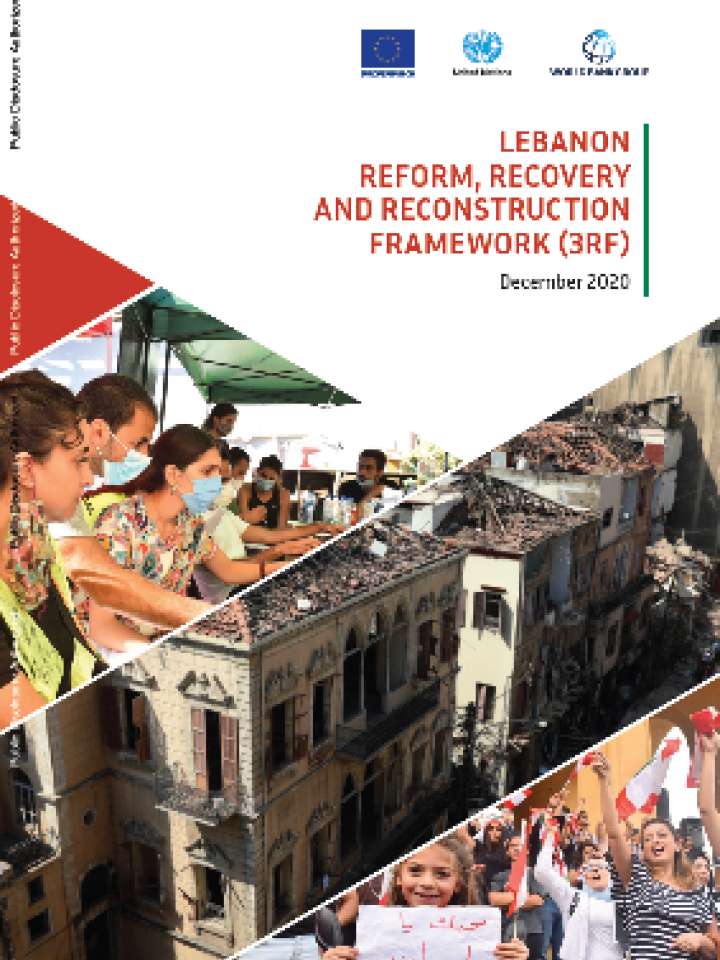 The framework for Reform, Recovery and Reconstruction (the 3RF) is part of a comprehensive response to the massive explosion on the Port of Beirut on August 4, 2020. It is a people-centered recovery and reconstruction framework focusing on a period of 18 months that will bridge the immediate humanitarian response and the medium-term recovery and reconstruction efforts to put Lebanon on a path of sustainable development. 
The 3RF recognizes that regaining the trust of the Lebanese people in governmental institutions is imperative for successful recovery. The government needs to assume responsibility and take urgent action to promote recovery and reconstruction. Lebanon also needs to adopt a new governance model that breaks the capture of political elites over state institutions and ensures that these institutions serve people's needs and can respond to the crises the country faces.
To promote a different way of working, the 3RF is designed as a collaborative process that is based on the participation of the government, civil society, the private sector as well as development partners. It is also guided by the overarching principles of transparency, accountability, and inclusion. The 3RF aims to help Lebanon achieve three central goals in response to the Beirut port explosion. First, a people-centered recovery that returns sustainable livelihoods to the affected population; improves social justice for all, including women, the poor, and other vulnerable groups; and ensures participatory decision making. Second, the reconstruction of critical assets, services, and infrastructure that provides equal access for all to quality basic services and enables sustainable economic recovery. Third, the implementation of reform to support reconstruction and to help restore people's trust in governmental institutions by improving governance. 
The 3RF pursues two tracks in parallel: 
A people-centered recovery track (Track 1), focusing on essential actions, such as policy measures, investments, and institutional strengthening, to address urgent needs of the most vulnerable populations and small businesses affected by the explosion. This people-centered support will largely rely on receiving adequate international grant financing, and on clear progress on immediate policy action to facilitate recovery, such as the adoption of appropriate actions plans and institutional measures. 
A reform and reconstruction track (Track 2), focusing on critical reforms to address governance and recovery challenges in Lebanon as well as investments that focus on the reconstruction of critical assets, services, and infrastructure. Progress on governance and  socioeconomic reforms are prerequisites for mobilizing international support for reconstruction beyond the recovery track, and for unlocking new sources of public and private finance.
The policy actions and reforms outlined in the 3RF are a subset of the wider CEDRE reform package and are fully aligned with the French roadmap from September 3, 2020. They offer critical confidence-building signals as a pre-requisite for enabling reconstruction and rebuilding trust, and they complement urgent macroeconomic stabilization measures. Moreover, as a foundation for the 3RF reform and reconstruction track, progress remains indispensable on an IMF program that would mobilize the urgently needed external financing. 
The 3RF is structured around four strategic pillars: (1) improving governance and accountability; (2) jobs and opportunities; (3) social protection, inclusion, and culture; and (4) improving services and infrastructure. Each pillar identifies a set of strategic objectives and priority areas across both the recovery track and the reform and reconstruction track.