publication
Documents and publications
Logistics analysis of Puerto Rico: will the seaborne supply chain of Puerto Rico support hurricane recovery projects?
Author(s)
ADAM C. RESNICK, ANTHONY DECICCO, VIKRAM KILAMBI, KEENAN D. YOHO, RAFFAELE VARDAVAS, AARON C. DAVENPORT
Source
Homeland Security Operational Analysis Center
RAND Corporation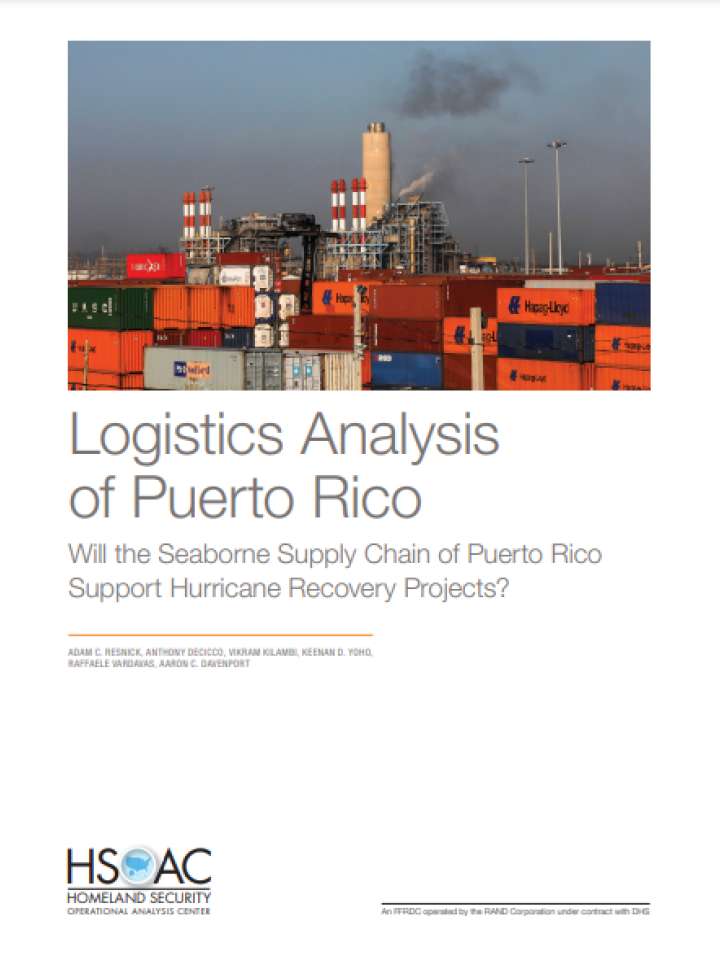 Puerto Rico's seaborne logistics capacity is assessed in the context of the anticipated increase in imported materials and the need to transport large, heavy materials onto, and then around, the main island for recovery projects following Hurricane Maria. The near-term logistics challenges to the implementation of Puerto Rico's recovery plan are identified, taking into account the degradation of the transportation network in the aftermath of the 2017 hurricanes.

Transportation capacity requirements consistent with the recovery plan are projected. Network analysis of the posthurricane condition of the transportation systems confirmed that the anticipated increase in demands to support the recovery can be accommodated. This analysis shows that the increased traffic from implementing the recovery plan can be supported with existing infrastructure using modest mitigation actions. Recommendations include actions to mitigate bottlenecks, such as the government of Puerto Rico and U.S. federal agencies involved in recovery coordinating with port terminal operators to ensure that material-handling equipment and yard space to store containers are available when needed.