Documents and publications
Author(s)
Jallow, Samba; Camara, Isatou; Swaby Gabrielle
Planning a green and resilient COVID-19 recovery in The Gambia
Source
International Institute for Environment and Development
United Nations Development Programme
United Nations Development Programme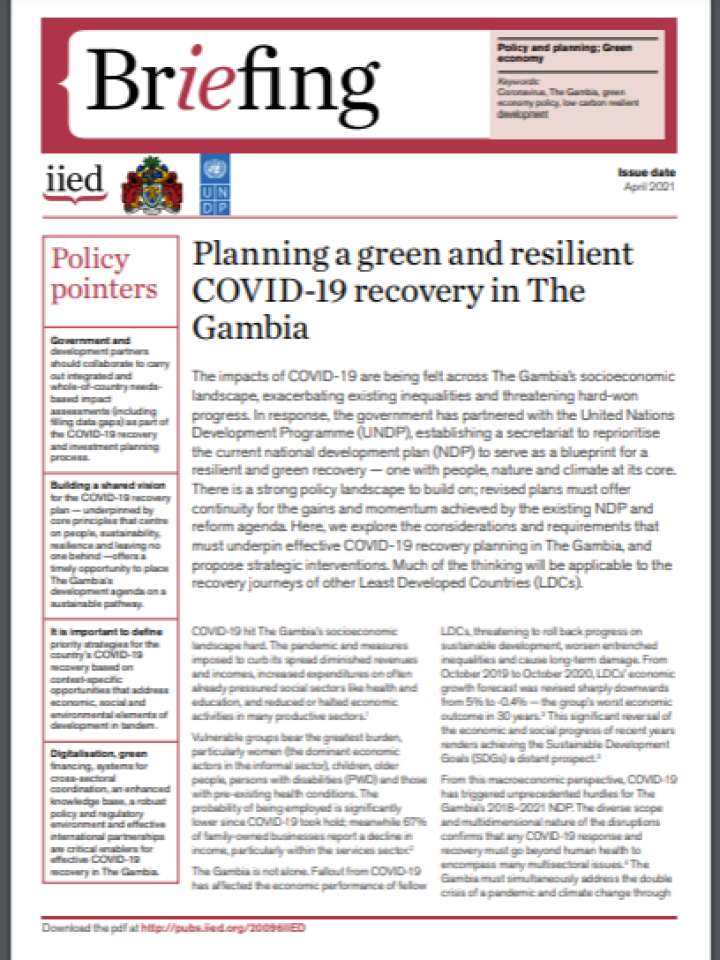 The impacts of COVID-19 are being felt across The Gambia's socioeconomic landscape, exacerbating existing inequalities and threatening hard-won progress. In response, the government has partnered with the United Nations Development Programme (UNDP), establishing a secretariat to reprioritise the current national development plan (NDP) to serve as a blueprint for a resilient and green recovery — one with people, nature and climate at its core. There is a strong policy landscape to build on; revised plans must offer continuity for the gains and momentum achieved by the existing NDP and reform agenda.
Here, the authors explore the considerations and requirements that must underpin effective COVID-19 recovery planning in The Gambia, and propose strategic interventions. Much of the thinking will be applicable to the recovery journeys of other Least Developed Countries (LDCs). The authors identify the following strategic interventions that could provide the greatest impact and co-benefits, felt across society:
Integrate resilience into domestic budgets.
Promote nature-based solutions in productive sectors; integrate strong social protection measures for vulnerable groups. 
Grow renewable energy
Create green jobs.
Enhance sustainable agricultural resilience.