Documents and publications
Author(s)
Pedroso, F.F.; Teo, J.; Seville, E.; Giovanazzi, S.; Vargo, J.
Post-disaster challenges and opportunities: Lessons from the 2011 Christchurch earthquake and Great Eastern Japan earthquake and tsunami
Source
World Bank, the
United Nations Office for Disaster Risk Reduction
Kyoto University
Resilient Organisations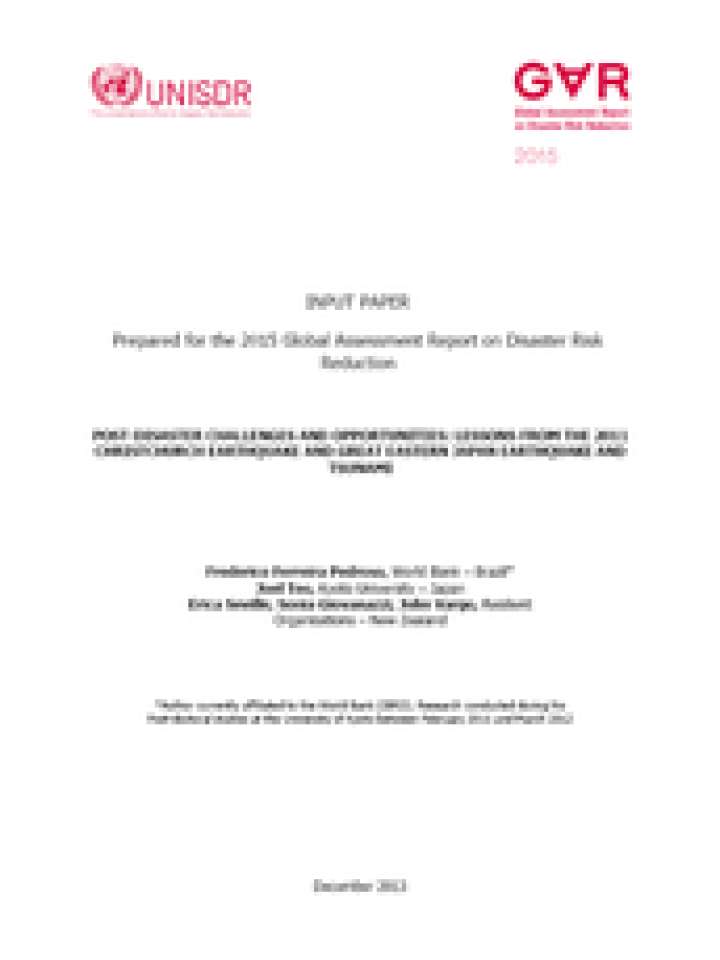 This paper seeks to inform policy changes that can be considered in the post 2015 framework for disaster risk reduction, drawing lessons from the Christchurch earthquake in New Zealand and the Great Eastern Japan earthquake and tsunami in 2011. Both events offer the opportunity for researchers and practitioners to review current practice in disasters response and information sharing.
The findings of this study are the following:
In both cases, information sharing procedures were critical in supporting response and recovery.
Both cases have also demonstrated social and government commitments to both learn from the mistakes of the past and to implement prevention and response strategies for a better future.
The key to continuous improvement in the way planning, responding to and recovering from disasters is done lies in the openness and willingness of organisations to develop and maintain a culture of ongoing learning.
A strong commitment from the private sector is important to avoid further humanitarian crises by bridging gaps in the government plan for disaster relief as well as the lack of capacity to do so, i.e. unavailability of transport equipment.
Resilience in the face of natural disasters has to be developed and sustained in peace time so that it is available when trouble hits.
Social capital in the local community can address the "last mile" problem. Those relationships fostered between government and private sector players during the day-to-day business can be invaluable
network links in addressing both the response and recovery phases of a disaster.
This document is an input paper for the 2015 Global Assessment Report on Disaster Risk Reduction.