Author(s)
Cordova, Amado; Consaul, Ryan ; Stanley, Karlyn D. ; et al.
Recovery plan for the communications and information technology sector after hurricanes Irma and Maria : Laying the foundation for the digital transformation of Puerto Rico
9 October 2020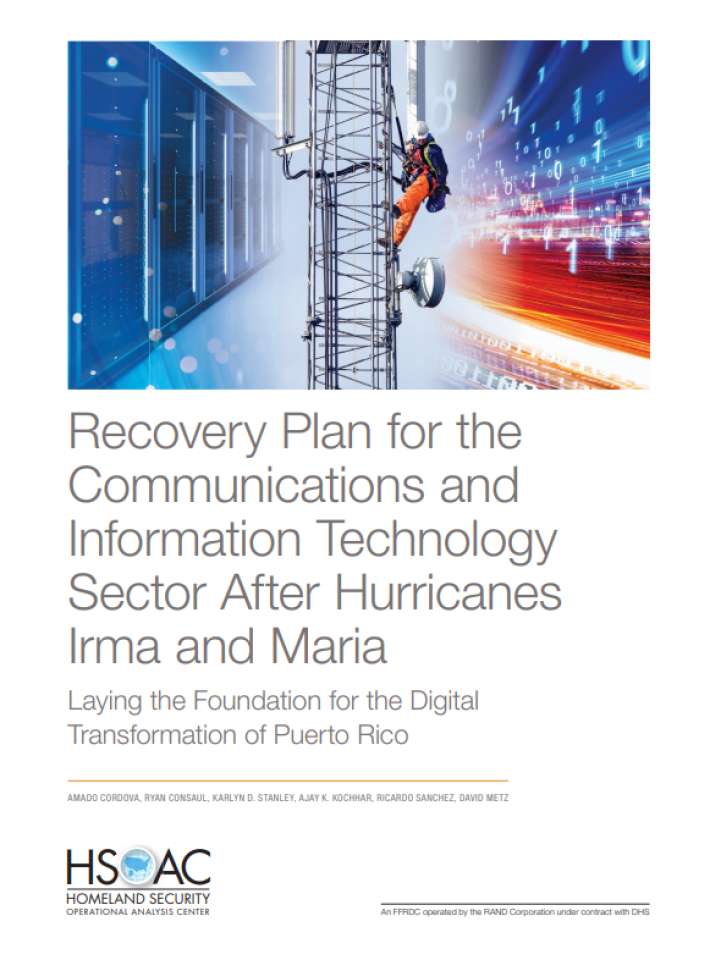 ISBN/ISSN/DOI
9781977403834 (ISBN)
This report contributes to the overall plan with a focus on the communications and information technology (IT) sector in Puerto Rico after the devastating 2017 hurricane season.
Key Findings
Puerto Rico must develop and implement a state-of-the-art, survivable, resilient communications infrastructure
This infrastructure is essential for the continuity of essential government functions and the provision of public safety services and must be well maintained and fully resourced.
It must provide commercial telecommunication services, including voice and data services, to residents and the private sector, and support affordable access to broadband internet service and emerging technologies throughout Puerto Rico.
It is crucial for furthering the economic and social vitality of Puerto Rico and should thus host applications and web services that foster government and private-sector innovation, increase economic opportunity, and improve the quality of life for the residents of Puerto Rico.
Recommendation
This report details 33 specific COAs addressing the needs for recovery of the Communications/IT sector in ways that are sustainable and resilient; describes how they build on and support one another; and explains how COAs will further the economic development of Puerto Rico and the wellbeing of its residents.