Author(s)
Anamaria Bukvic; Graham Owen
Attitudes towards relocation following Hurricane Sandy: should we stay or should we go?
26 January 2017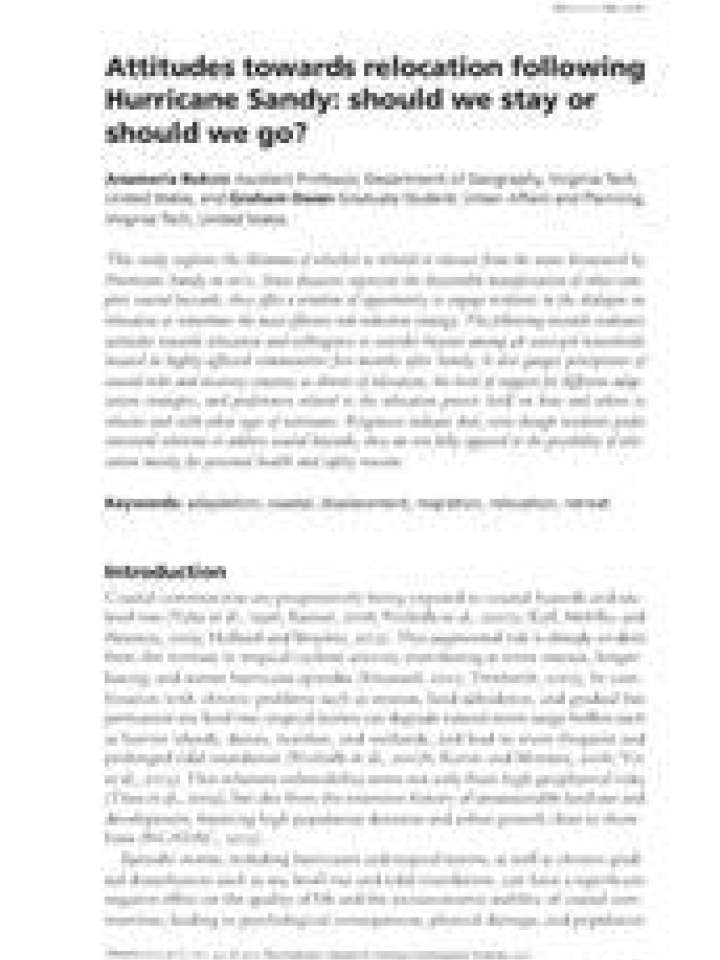 Number of pages
pp. 101-123
This research discusses the willingness of homeowners to relocate or rebuild following Hurricane Sandy in 2012. As the perception of risk can influence relocation, a survey of 46 households in highly affected communities was conducted to better understand attitudes towards recovery and buyout options. 
The study finds that while residents are fully aware of coastal risks, the majority would prefer to rebuild with structural changes than to relocate. Relocation, however, would be considered for health and safety reasons.
The report suggests that decision-makers need to regard issues of relocation on a case-by-case basis to account for community dynamics and culture. There may be opportunties for large-scale buyout opportunities in the future and the mechanisms need to be in place prior to the event. 
Disasters, 2017, 41(1): 101−123. © 2017 The Author(s). Disasters © Overseas Development Institute, 2017 Published by John Wiley & Sons Ltd, 9600 Garsington Road, Oxford, OX4 2DQ, UK and 350 Main Street, Malden, MA 02148, USA