Documents and publications
Beirut Rapid Damage and Needs Assessment
Source
World Bank, the
Global Facility for Disaster Reduction and Recovery, the
United Nations Development Programme
European Union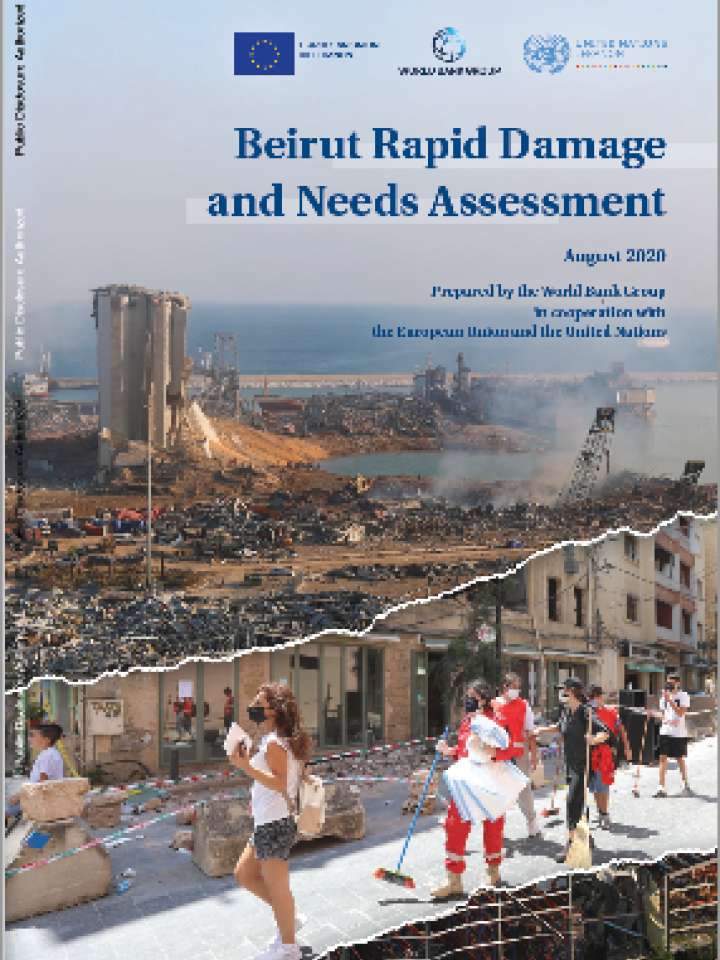 On August 4, 2020, a massive explosion in the Port of Beirut (PoB) rocked the city, killing more than 200 people, wounding more than 6,000, and displacing around 300,000. The detonations all but destroyed the country's largest port, one of the busiest in the Middle East and most of Lebanon's grain reserves. The city's dense residential and commercial areas were severely damaged within five kilometers from the explosion's site. Search-and-rescue efforts were launched immediately following the explosion, which have transitioned to humanitarian and early recovery efforts. These efforts are ongoing and will continue over the immediate-term to help the people of Lebanon get back on their feet.

The key objective of the Beirut Rapid Damage and Needs Assessment (RDNA) is to inform stakeholders—including the Government of Lebanon, as well as the local and international community—on the disaster effects (damages and direct and indirect losses) and recovery and reconstruction needs. With the aim of promoting a sustainable economic and social recovery with rapid reductions of poverty levels, the guiding principles for conducting this assessment are transparency, inclusion and good governance. More specifically, the RDNA:
informs the reform, recovery and reconstruction process by considering a critical opportunity to build back a better Lebanon, guided by principles of transparency, inclusion, and accountability;
provides a preliminary estimate of critical physical infrastructure reconstruction and service delivery restoration needs in the immediate (CY2020) and short-term (CY2021);
contributes to a more coordinated and coherent national and international effort for building back better; and
recommends assessments and analyses that will be critical to an exhaustive understanding of the impact of the crisis and developing a medium- and longer-term recovery program.
(23.14 MB/PDF)
(2.53 MB/PDF)
(2.16 MB/PDF)