Documents and publications
Disaster preparedness and resiliency-Indian context
Author(s)
Gupta, A.; Kartikeya, Garg B.
Source
Indian Institute of Technology Roorkee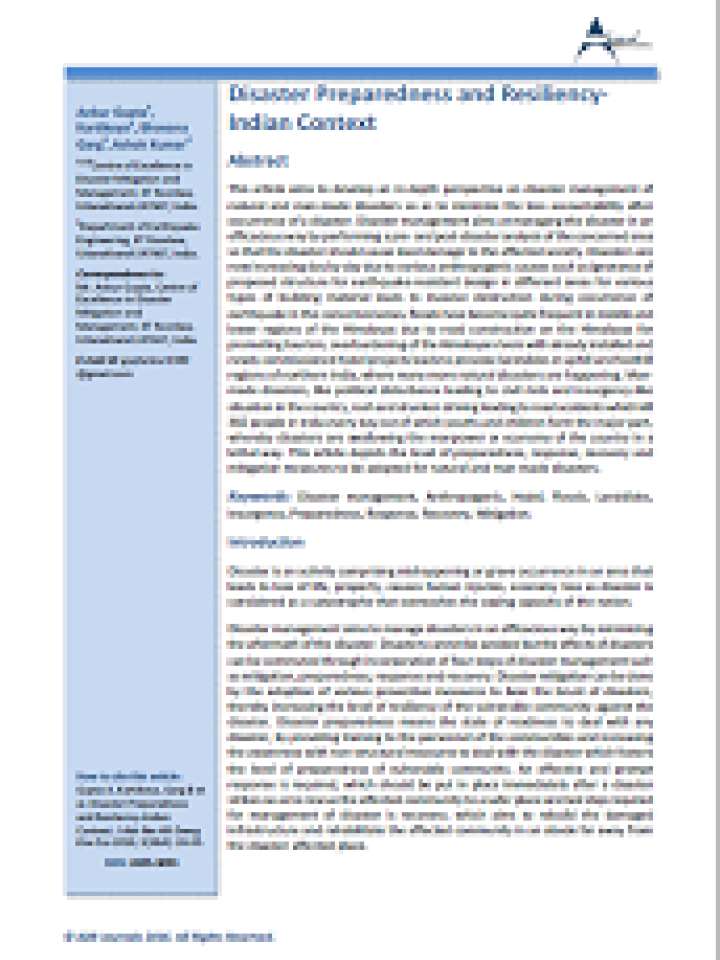 ISBN/ISSN/DOI
2455-3093 (ISSN)
This article aims to develop an in-depth perspective on disaster management of natural and man-made disasters so as to minimize the loss accountability after occurrence of a disaster. Disaster management aims at managing the disaster in an efficacious way by performing a pre- and post-disaster analysis of the concerned area so that the disaster should cause least damage to the affected society.
Disasters are now increasing day by day due to various anthropogenic causes such as ignorance of proposed structure for earthquake-resistant design in different areas for various types of building material leads to massive destruction during occurrence of earthquake in the concerned areas, floods have become quite frequent in middle and lower regions of the Himalayas due to road construction on the Himalayas for promoting tourism, overburdening of the Himalayan rivers with already installed and newly commissioned hydel projects leads to provoke landslides in uphill and foothill regions of northern India, where many more natural disasters are happening.
Manmade disasters, like political disturbance leading to civil riots and insurgency-like situation in the country, rash and drunken driving leading to road accidents which kill 382 people in India every day out of which youths and children form the major part, whereby disasters are swallowing the manpower or economy of the country in a lethal way. This article depicts the level of preparedness, response, recovery and mitigation measures to be adopted for natural and man-made disasters.