The Ketsana Typhoon in the Lao People's Democratic Republic - Damage, Loss, and Needs Assessment
16 November 2021
Source
Lao People's Democratic Republic - government
World Bank, the
Asian Development Bank
Global Facility for Disaster Reduction and Recovery, the (GFDRR)
United Nations Development Programme (UNDP)
Association of South East Asian Nations
Australian Agency for International Development
Asian Disaster Preparedness Center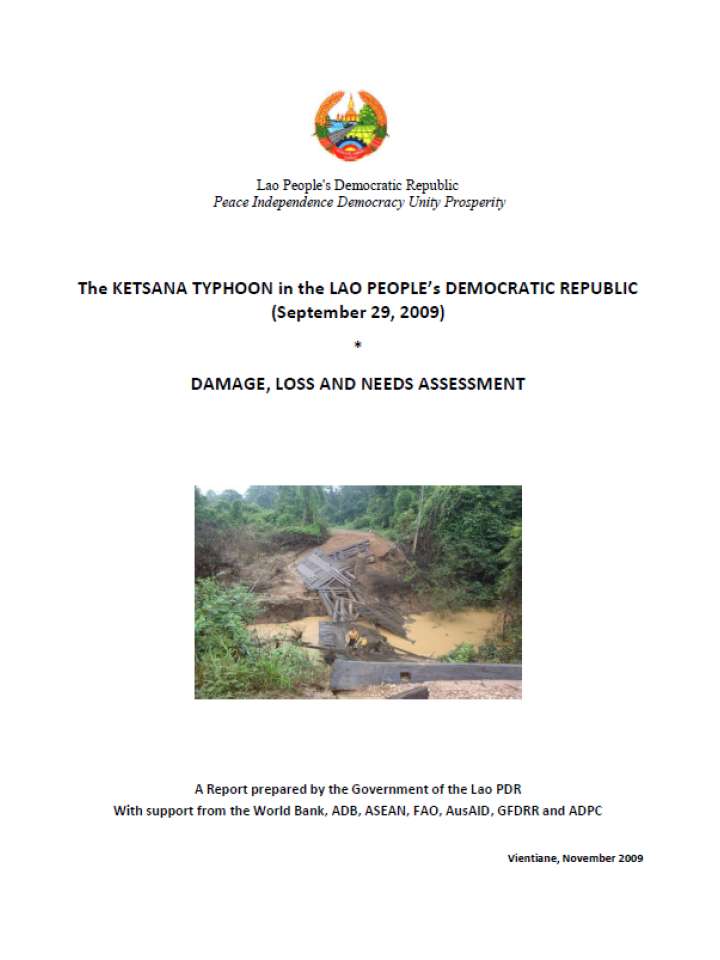 On September 29, 2009, coming from Vietnam, Typhoon Ketsana crossed the southern part of the Lao PDR before moving into Cambodia.
While sweeping through five southern provinces, the typhoon caused incredible damage and loss, affecting more than 180,000 people, or almost 30,000 households. We also deplore 28 storm-related deaths. The suffering, damage and losses caused by Ketsana are of a magnitude not previously seen. Without immediate recovery efforts, its consequences would gravely compromise the development efforts undertaken so far, seriously set back the economic development dynamism and further jeopardize the already very precarious situation of some of the districts hit, especially those who are still among the poorest of the country.
This Post-disaster Needs Assessment (PDNA) report is complementary to the Joint Assessments made by the Government of Lao PDR, the United Nations Agencies and INGOs, whose purpose was to update the preliminary data collected during the first few days of the disaster and so to organize the immediate short-term responses to this grave humanitarian crisis.
The PDNA addresses the damages and losses registered in a number of sectors and identifies resource needs in the medium and longer term to address the urgent requirements for recovery and restoration of the livelihoods of the affected population