Documents and publications
The role of social capital in disaster resilience in remote communities after the 2015 Nepal earthquake
Author(s)
Panday, Sarita; Rushton, Simon; Karki, Jiban et al.
Source
International Journal of Disaster Risk Reduction (Elsevier)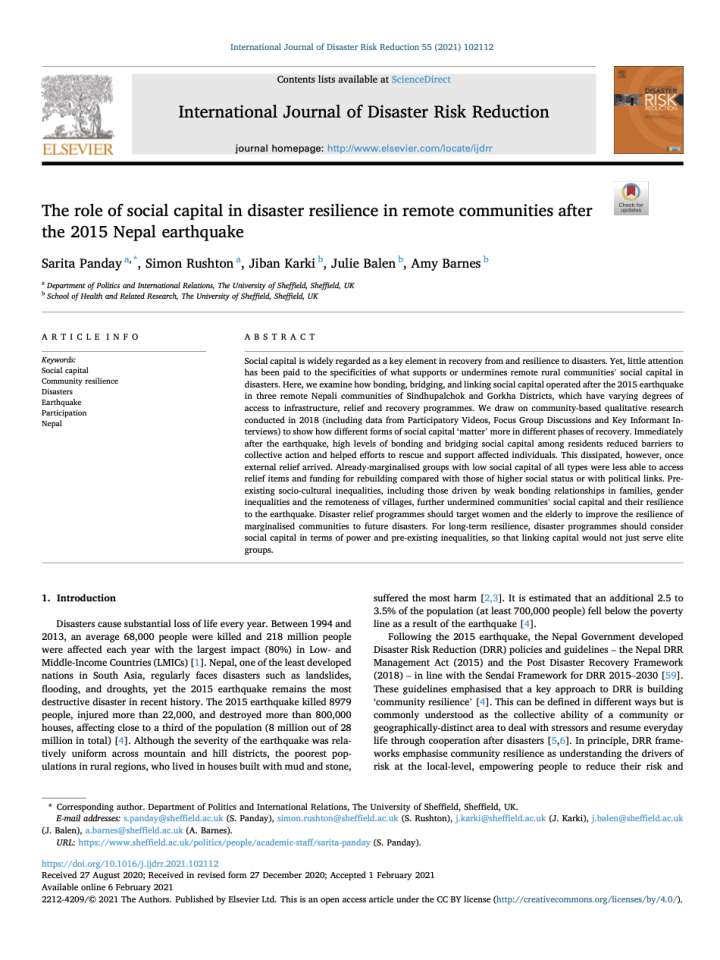 ISBN/ISSN/DOI
10.1016/j.ijdrr.2021.102112 (DOI)
This paper analyses the role of social capital in disaster resilience in remote communities after the 2015 Nepal earthquake. Social capital is widely regarded as a key element in recovery from and resilience to disasters. Yet, little attention has been paid to the specificities of what supports or undermines remote rural communities' social capital in disasters. The paper examines how bonding, bridging, and linking social capital operated after the 2015 earthquake in three remote Nepali communities of Sindhupalchok and Gorkha Districts, which have varying degrees of access to infrastructure, relief and recovery programmes.
The paper finds that immediately after the earthquake, high levels of bonding and bridging social capital among residents reduced barriers to collective action and helped efforts to rescue and support affected individuals. This dissipated, however, once external relief arrived. Already-marginalised groups with low social capital of all types were less able to access relief items and funding for rebuilding compared with those of higher social status or with political links. Pre-existing socio-cultural inequalities, including those driven by weak bonding relationships in families, gender inequalities and the remoteness of villages, further undermined communities' social capital and their resilience to the earthquake. Disaster relief programmes should target women and the elderly to improve the resilience of marginalised communities to future disasters. For long-term resilience, disaster programmes should consider social capital in terms of power and pre-existing inequalities, so that linking capital would not just serve elite groups.