publication
Documents and publications
Typhoon Haima in the Lao People's Democratic Republic Joint Damage, Losses and Needs Assessment
Source
Lao People's Democratic Republic - government
Asian Development Bank
Asian Disaster Preparedness Center
Global Facility for Disaster Reduction and Recovery, the
United Nations Development Programme - Headquarters
Food and Agriculture Organization of the United Nations - Headquarters
Save the Children International
United Nations Population Fund
United Nations Children's Fund (Global Headquarters, New York)
United Nations Human Settlements Programme - Headquarters
World Food Programme
World Health Organization
World Bank, the
World Vision International
Water and Sanitation Programme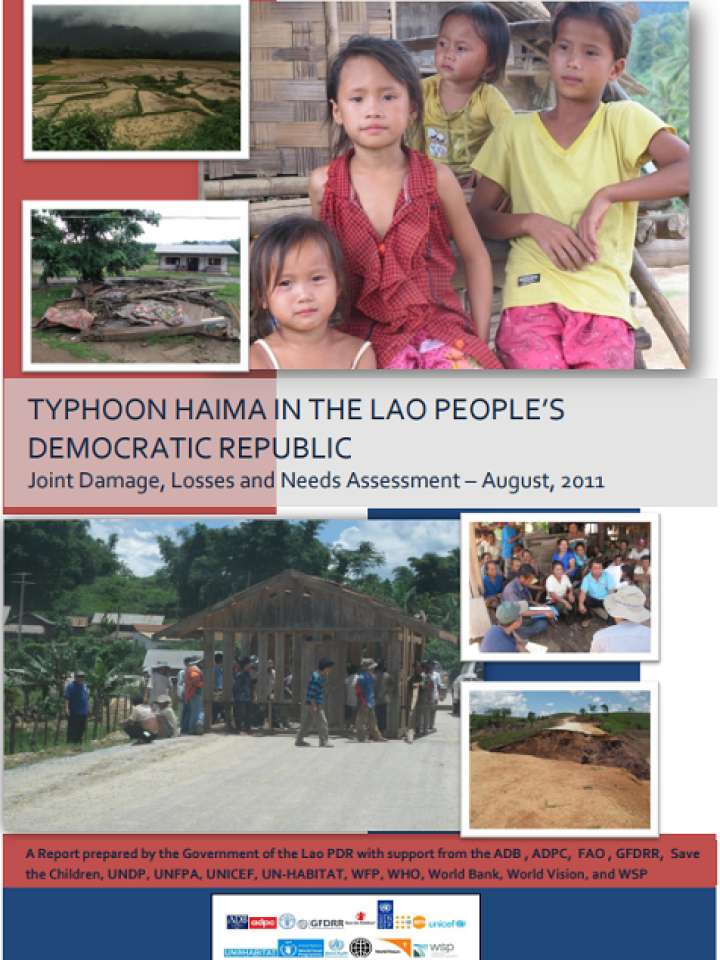 From 24 to 26 June 2011, Typhoon Haima swept through the northern and central provinces of Lao PDR, causing widespread flooding in four provinces – Bolikhamxay, Xayaboury, Vientiane, and Xiengkhouang. The floods caused extensive damage to people's livelihoods, property, and to social and physical infrastructure.

The Government of Lao PDR (GoL) at the provincial level acted quickly, helping the communities to evacuate, mobilising volunteers to search for and rescue the victims, and delivering immediate emergency aid as well as temporary restoration of life line facilities and houses of people. In parallel, the central government mobilised resources and funds from the public and private sectors to assist the victims in the affected provinces. The Ministry of Foreign Affairs (MoFA), on behalf of the GoL, also issued an official letter dated 13 July 2011, requesting assistance from the UN agencies and the World Bank, to conduct a Joint Damage, Losses and Needs Assessment (JDLNA) of Typhoon Haima in the four main affected provinces.

In response to the request made by MoFA, the joint assessment team, comprising government staff from key line ministries at the central level and development partners (DP), was mobilised to undertake the JDLNA from 25 July to 5 August 2011. The assessment was completed under the leadership of the Ministry of Planning and Investment (MPI) and the NDMO within the Ministry of Labour and Social Welfare (MLSW) in collaboration with the provincial governments and DP. The scope of the assessment covers the damage and losses in key sectors - including agriculture, housing, transport, education, health as well as industry, commerce, tourism, trade and environment (hydrometeorological services) – that occurred during the period from 24 June to 30 July 2011.