Documents and publications
Vanuatu, Tropical Cyclone Pam, Post-Disaster Needs Assessment
Source
Vanuatu - government
Global Facility for Disaster Reduction and Recovery, the
United Nations Development Programme - Headquarters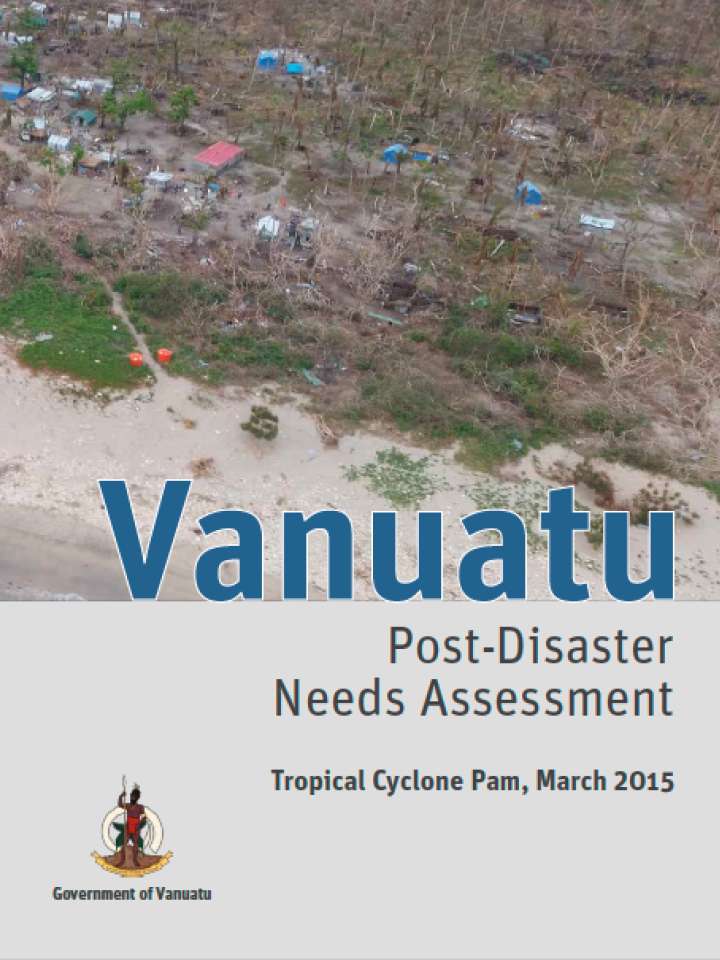 Between March 12 and 14, 2015, Tropical Cyclone Pam struck Vanuatu as an extremely destructive Category 5 cyclone. Eleven fatalities were subsequently confirmed in Tafea and Shefa Provinces. An estimated 65,000 people were displaced from their homes. Approximately 17,000 buildings were damaged or destroyed, including houses, schools, clinics, and other medical facilities. The tropical cyclone destroyed crops on a large scale and compromised the livelihoods of at least 80% of Vanuatu's rural population.
The sectors that sustained the highest level of damage were the housing sector, which accounts for 32% of the total damage costs, followed by the tourism sector (accounting for 20% of all damage), the education sector (accounting for 13% of all damage), and the transport sector (accounting for 10% of total damage). In contrast, the largest level of economic loss is expected in the agriculture and tourism sectors, which are estimated at 33% and 26% of the total losses respectively.
This PDNA is not a full assessment of total damage and loss, but is rather based on the best available information at the time of writing. The report covers the damage, loss, and needs across various sectors. A section of the PDNA also provides Tropical Cyclone Pam's social and household impact. Key issues and challenges regarding disaster risk management in Vanuatu are identified in the last section of the report. Recommendations to implement in the short-, medium, and long-term are also covered in this section.