Documents and publications
2011 Bhutan Earthquake- Joint Rapid Assessment for Recovery, Reconstruction and Risk Reduction
Source
Bhutan - government
Global Facility for Disaster Reduction and Recovery, the
United Nations - Headquarters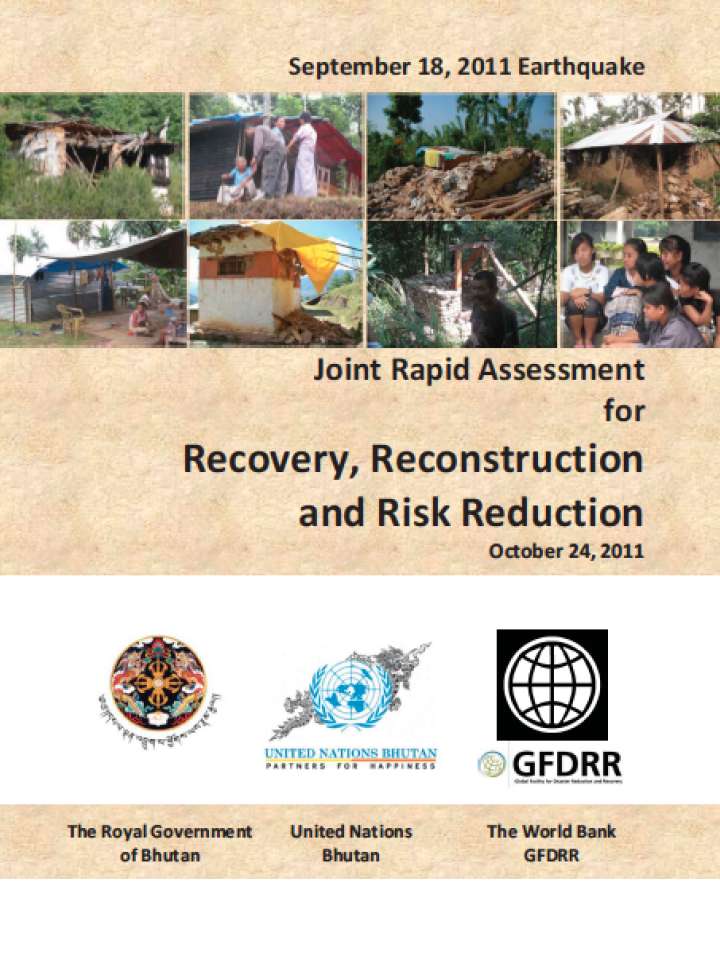 On September 18, 2011, Bhutan was hit by a 6.9 Richter scale earthquake that killed one person and injured 14 people. Houses, religious and cultural heritage monuments, and public buildings suffered the maximum and most visible damage in the earthquake: approximately 7,965 homes were affected, of which 345 were completely destroyed. Additionally, fifty health facilities were also reported to have suffered from damages. 117 school buildings and informal education centers were affected. The earthquake did not significantly impact local livelihoods, although some minor losses due to damaged irrigation channels and storage facilities were reported.
With request from the Royal Government of Bhutan (RGoB), an assessment team comprising of representatives from the RGoB, the UN, and the World Bank was sent to assess the aftermath of the earthquake and support recovery efforts.
This Joint Rapid Assessment presents the data collected by the team regarding the overall damage and losses incurred by the earthquake, in addition to estimates for recovery and reconstruction costs. It also covers the priorities for early recovery, reconstruction, and disaster risk reduction. An implementation plan and timeline to address these priorities, such as establishing adequate water storage facilities and improving seismic safety building codes, are in the latter section of this Assessment.