Author(s)
Hirsu, Lavinia; Arizpe, Evelyn; McAdam, Julie E.
Cultural interventions through children's literature and arts-based practices in times of disaster: A case study of reading mediators' response to the Mexican earthquakes
25 August 2020
Source
International Journal of Disaster Risk Reduction (Elsevier)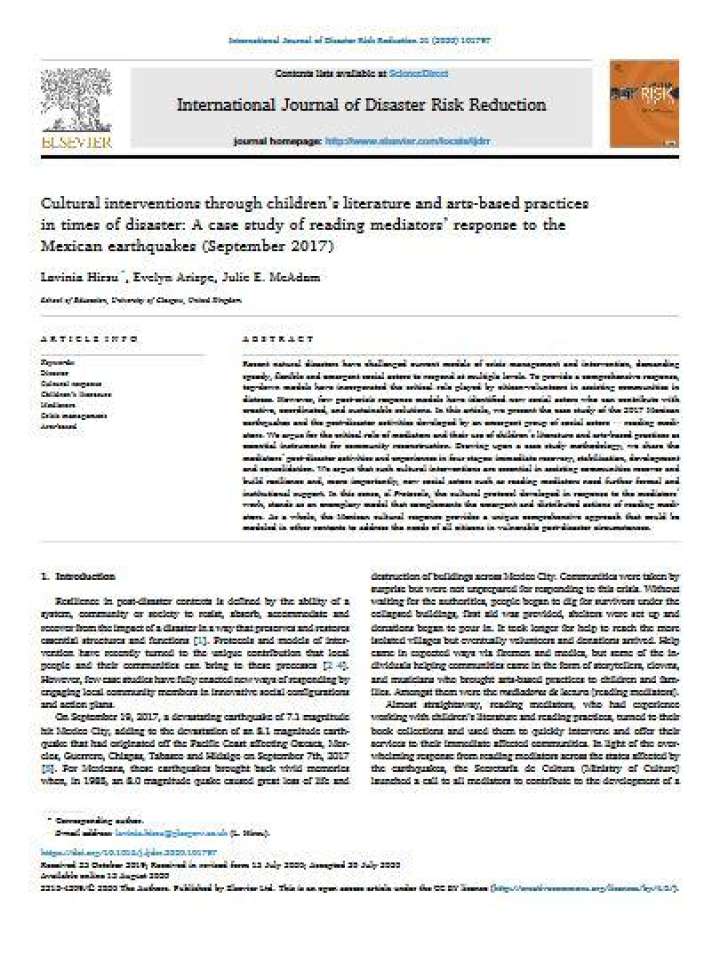 ISBN/ISSN/DOI
10.1016/j.ijdrr.2020.101797 (DOI)
In this article, the researchers present the case study of the 2017 Mexican earthquakes and the post-disaster activities developed by an emergent group of social actors - reading mediators. They argue for the critical role of mediators and their use of children's literature and arts-based practices as essential instruments for community reconstruction. Drawing upon a case study methodology, this research shares the mediators' post-disaster activities and experiences in four stages: immediate recovery, stabilisation, development and consolidation.
The authors argue that such cultural interventions are essential in assisting communities to recover and build resilience and, more importantly, new social actors such as reading mediators need further formal and institutional support. In this sense, el Protocolo, the cultural protocol developed in response to the mediators' work, stands as an exemplary model that complements the emergent and distributed actions of reading mediators. As a whole, the Mexican cultural response provides a uniquely comprehensive approach that could be modelled in other contexts to address the needs of all citizens in vulnerable post-disaster circumstances.