Fiji Post-Disaster Needs Assessment Tropical Cyclone Evan
12 September 2022
Source
Fiji - government
World Bank, the
Global Facility for Disaster Reduction and Recovery, the (GFDRR)
European Union
Secretariat of the Pacific Community
United Nations - Headquarters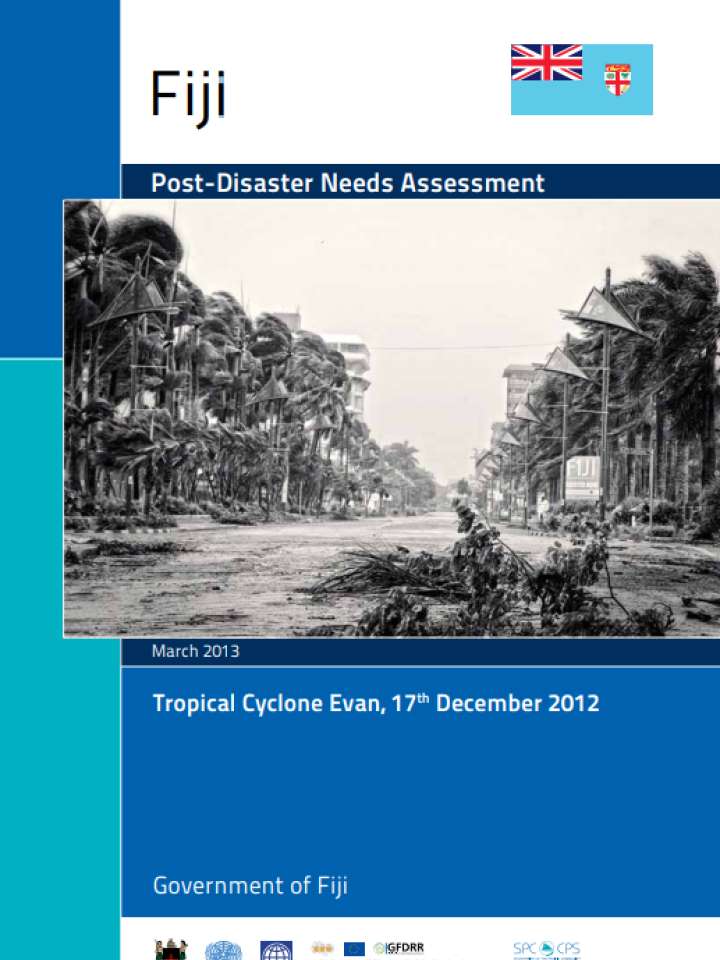 Tropical Cyclone Evan (TC Evan) − a massive Category 4 cyclone that ravaged Northern Vanua Levu and Western Viti Levu on 16-17 December 2012 − is considered one of the worst to ever hit Fiji in recent history.

The cyclone left widespread destruction in its path – but luckily no deaths or major injuries to persons. Dwellings and their contents were damaged or destroyed, infrastructure was damaged and crops ruined. The livelihoods of many of those affected were significantly compromised and economic activity disrupted. The impact of Evan compounded the damage experienced by some of the same communities and businesses in the wake of the Western Floods of January and March 2012.

The emergency response was well coordinated and managed. Early warning advisories issued by the National Disaster Management Office of the Government were broadcast throughout the country. As a result many residents and tourists were relocated from the outer islands to the relative safety of Nadi. Generally, the public felt that they were well informed and able to make adequate preparations. More importantly, as a result of these communications no fatalities were reported.

The Government, through Cabinet Decision 465, endorsed the recommendation that a Humanitarian Action Plan (HAP) be prepared through the national cluster system – a coordination mechanism that brings together key government agencies, stakeholders and partners for each sector – focusing on urgent disaster response and immediate rehabilitation activities. In addition, the Government requested that a longer-term recovery framework be developed based on a PostDisaster Needs Assessment (PDNA) methodology.