publication
Documents and publications
Typhoons Ondoy and Pepeng: Post-Disaster Needs Assessment
Source
Philippines - government
Asian Development Bank
United Nations - Headquarters
Global Facility for Disaster Reduction and Recovery, the
United Nations Development Programme - Headquarters
World Bank, the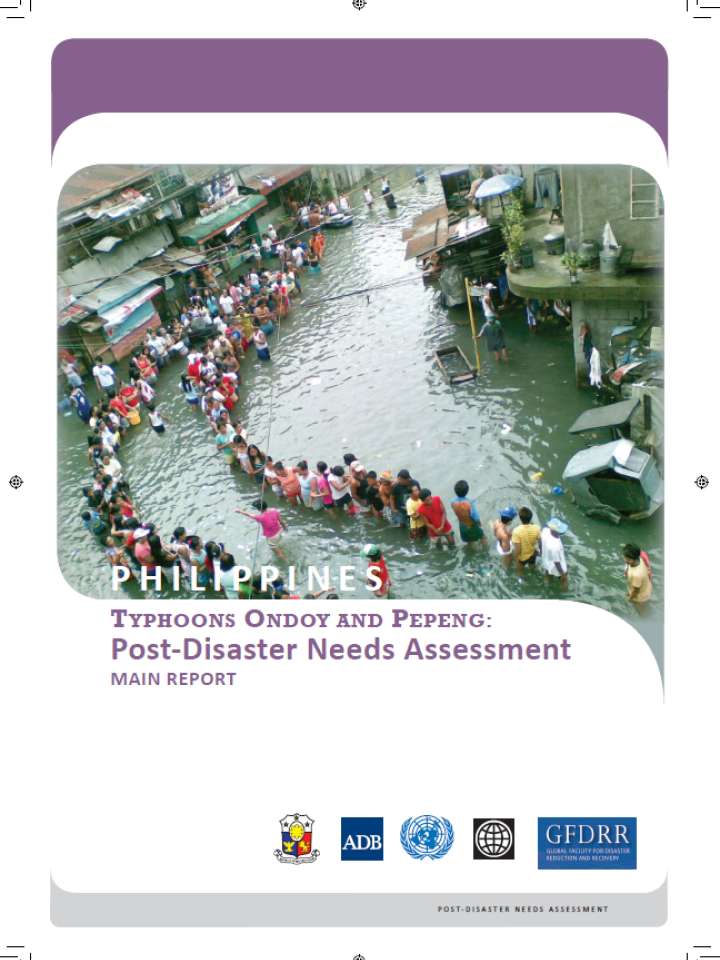 Tropical storm Ondoy (international name Ketsana) hit the Philippines on September 26, 2009, causing widespread flooding. Ondoy, the equivalent of a Category I storm, brought an unusually high volume of rain which inundated the central part of Luzon. In turn, these intense rains generated high flooding in the Marikina River that exceeded the river's carrying capacity. Tropical storm Ondoy was quickly followed by typhoon Pepeng (international name Parma). Typhoon Pepeng, a Category III storm, affected the Philippines during October 3-9, 2009, following an irregular path which crossed over Central and Northern Luzon three times. It initially brought powerful winds with gusts of up to 230 km/hr then an extended period of heavy rains, with cumulative rainfall amounts exceeding 1,000 mm in some areas.
Ondoy and Pepeng resulted in large numbers of affected persons and casualties. As of November 23, 2009, the official death toll from the two natural disasters combined was 956 persons, with 84 persons still missing and 736 injured. While the majority of deaths caused by tropical storm Ondoy were due to drowning, reported deaths during typhoon Pepeng were also due to landslides. Assessment data show that over 9.3 million people were affected severely, out of an estimated population of 43.2 million living in the affected regions.
This Post-Disaster Needs Assessment analysis covers damages, losses, and economic and social impacts. The PDNA estimated that damage and losses from Ondoy and Pepeng amount to a total of US$4.38 billion. The assessment of damage and losses provides a basis for determining recovery and reconstruction needs.
(8.93 MB/PDF)
(29.41 MB/PDF)
(7.11 MB/PDF)