publication
Documents and publications
Cyclone Sidr in Bangladesh: damage, loss and needs assessment for disaster recovery and reconstruction, draft executive summary, March 2008
Source
Bangladesh - government
World Bank, the
European Commission
International Labour Organization
International Federation of Red Cross and Red Crescent Societies
Asian Development Bank
United Nations Development Programme - Headquarters
Japan Bank For International Cooperation
Japan International Cooperation Agency
Islamic Development Bank
Food and Agriculture Organization of the United Nations - Headquarters
World Food Programme
World Health Organization
Department for International Development
United States Agency for International Development
United Nations Children's Fund (Global Headquarters, New York)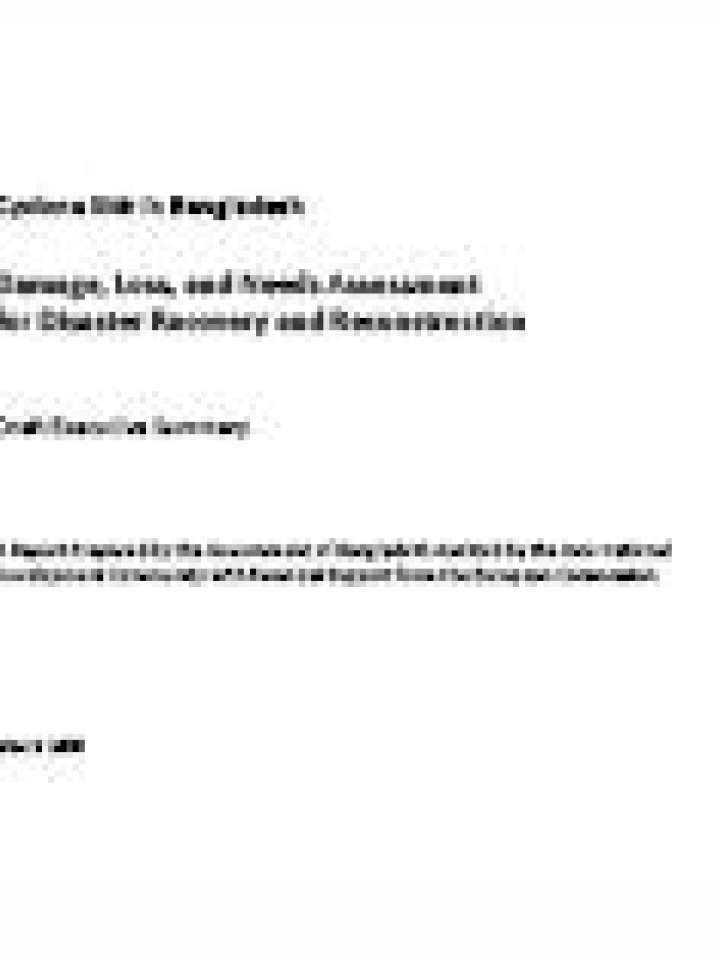 On 15 November 2007 Super Cyclone SIDR, a category IV storm in the international scale, struck the Bangladesh coast and moved inland destroying infrastructure, causing numerous deaths, disrupting economic activities and affecting social conditions, especially in the poorer areas of the country. In the aftermath of the disaster it was recognized by the Government of Bangladesh and its development partners that there was a need for a post disaster needs assessment as facilitating mechanism to ensure a smooth transition from humanitarian aid to recovery and reconstruction.

On 12 December 2007, members of a Local Consultative Group agreed to conduct a Joint Damage, Loss, and Needs Assessment (JDNLA) on the impact of Cyclone Sidr. The aim of the assessment is to identify priority areas to support the Government of Bangladesh in cyclone recovery efforts as well as to design a disaster management strategy.

A comprehensive methodology was used to estimate damage to assets, changes in economic flows, and impacts on social and economic conditions. The estimates were based on quantitative information collected by the Government of Bangladesh and the Development Partners during field surveys in the aftermath of the disaster. This information was supplemented by completed and ongoing assessments of United Nations (UN) agencies and community-based analysis conducted by the national and international Non-Governmental Organizations (NGOs) that participated in the joint effort.